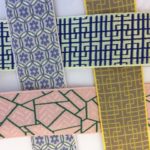 Our Woven Jacquard Ribbon (Stitched Ribbon) are made of narrow tape weaving looms.
Explore our extensive range of premium woven jacquard ribbons, all crafted to the highest quality standards. Each ribbon is customized to match your unique design artwork. Our jacquard ribbons are produced using three types of weaving looms: broadloom, needleloom, and narrow tape loom.
The Jacquard loom, renowned for creating exquisite woven jacquard textile ribbons, is employed to craft our visually stunning ribbons. These jacquard ribbons serve as ideal trims and accessories, enhancing both garments and home decor. Discover our curated collection of ribbons suitable for dressmaking, cushions, curtains, and various furnishing accessories.
Our woven jacquard ribbons are available in polyester and cotton weaves, ensuring a diverse selection to meet your specific needs.
Fashion remains a crucial element of our culture, undergoing continuous evolution from one decade to the next. The rise in popularity of smaller, boutique labels presents a fantastic opportunity for emerging fashion businesses seeking entry into this dynamic market. An effective and budget-friendly method to distinguish your brand is by incorporating a chic woven jacquard ribbon into your clothing line. The demand for the design of woven jacquard trimming is on the ascent, particularly among vibrant and innovative fashion brands.
Whether embarking on a dressmaking venture or seeking jacquard ribbon to adorn your living space, our diverse collection ensures there's something for everyone.
The enchanting Glimmer Solids woven jacquard ribbons are not only beautiful but also versatile for a myriad of projects. Whether you're working on quilts, garments, bags, accessories, or any other creative endeavor, these ribbons are an excellent choice.
Reach out to our design team, and they'll expertly navigate the variables with you, ensuring you achieve the perfect look for your custom woven jacquard ribbon.
Jacquard Elastic Tape
In the realm of textiles and fashion, Jacquard elastic tape stands out as a versatile and indispensable element. This innovative elastic tape is intricately woven with patterns and designs that seamlessly blend functionality with style.
A standout feature of Jacquard elastic tape lies in its exceptional stretch and recovery capabilities, ensuring excellent elasticity and comfort across various applications. Whether incorporated into waistbands, cuffs, lingerie, or sportswear, this elastic tape guarantees a secure yet flexible fit.
What distinguishes Jacquard elastic tape is its aesthetic allure. The weaving process allows for the creation of intricate and customizable patterns, making it a favored option for infusing garments and accessories with a touch of sophistication. With a diverse array of colours and designs available, finding the perfect match for your project is effortlessly achievable.